Online Purchases Terms & Conditions
Manua Exquisite Tahitian Art ships worldwide and all our pieces are delivered straight from our gallery in Tahiti, French Polynesia via DHL or FedEx insured international shipping. Delivery time is about 2 weeks and a store associate will provide you with a tracking number once your order has left Tahiti so you can follow its journey to you.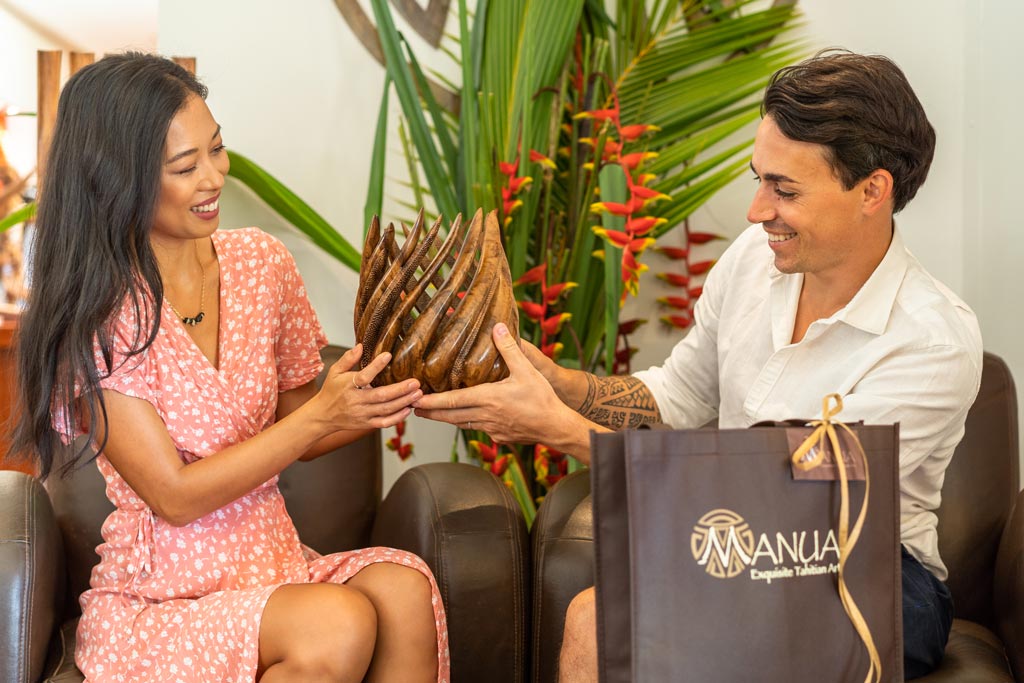 Prices & Payment Methods
All prices displayed on our website are in French Pacific Francs (XPF) and tax-inclusive. Shipping costs vary based on your location and will be added to your total at checkout. We will provide an estimate exchange rate in USD on your receipt. Note that your bank may use a different conversion rate at the time of transaction.
Secure Payment is carried out through our local carrier, OSB. The accepted payment methods are Visa, Mastercard, American Express, JCB and international wire transfer. Please note that if you choose to pay via bank transfer, your order will be processed after we receive payment in full.
Shipping/Handling & Delivery Policy
Items travel at the risk of the carrier or his correspondents and at the customer's expense (the price of shipping and insurance must be paid to us before shipment). All shipments require a signature on delivery. The risk of loss or damage is transferred to you upon signature of the delivery receipt.
We recommend you inspect your package for damage or tampering before signing and accepting it. Unfortunately, we cannot ship to P.O. Boxes or APO addresses.
If you wish to change your order, you may do so at any time before the order is dispatched. Contact us and we will do our best to accommodate your request and inform you of any change to the price they may incur. 
If the delivery of your order is delayed, or if there is damage to an item upon delivery, please contact us via email at sales@manuatahitianart.com or by phone at (+689) 40 853953 Monday to Friday from 9:00am to 5:00pm French Polynesia time (GMT-10).
Upon receiving your order, please carefully inspect the contents of the package. If there are any discrepancies between what you ordered and what you received, proceed according to our Exchange and Return Policy.
Please note that any additional charges for customs clearance must be borne by the recipient.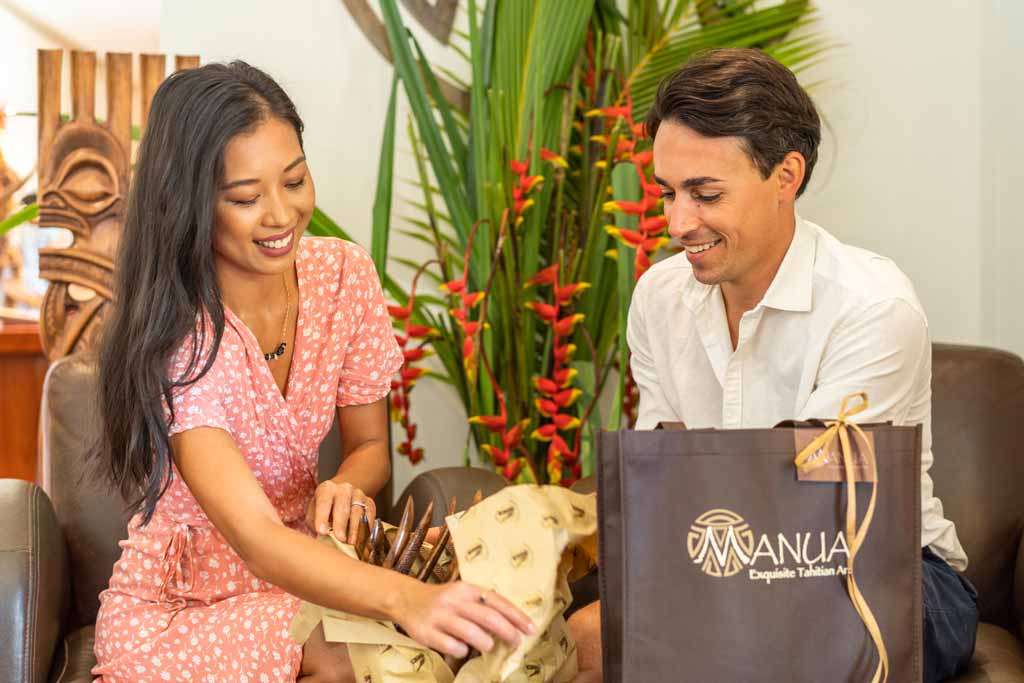 Exchange & Return Policy
We want you to be completely satisfied with your purchase, which is why Manua Exquisite Tahitian Art offers exchanges on online purchases up to 30 days following the date you have received the item, provided that the item is in the same condition as when purchased (unmodified, in its original packaging). Simply contact a member of our team and we will be happy to assist you in finding the perfect replacement piece to suit your needs. Please note that you will be liable for all shipping & insurance fees associated with returning the original item and sending a new item to your place of residence.
We do not offer refunds on online purchases, unless the item is recognized as damaged, defective or incorrect upon delivery. In that case, please contact us via email at sales@manuatahitianart.com or by phone at (+689) 40 853953 Monday to Friday from 9:00am to 5:00pm French Polynesia time (GMT-10) and we will be able to assist you.
Litigation
For any dispute with the client, only the Courts of French Polynesia will be competent and only the law of French Polynesia, under the conditions of the statute of autonomy, will be applied, to the exclusion of any other legislation. 
At Manua Exquisite Tahitian Art, we strive to provide each and every one of our guests with great quality service so you can feel confident in your purchase.
We hope your choice of unique Polynesian art brings you joy for many years to come.